Latest Posts
Subscribe to this blog's feed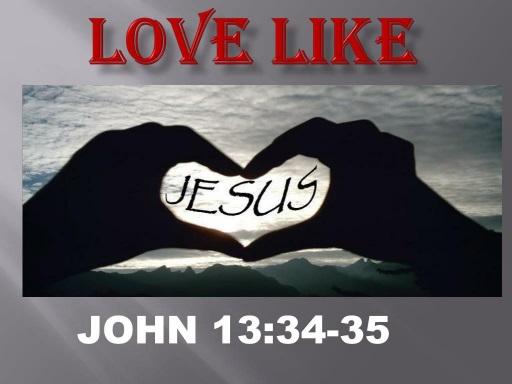 John 13:34 New Living Translation (NLT)
34 So now I am giving you a new commandment: Love each other. Just as I have loved you, you should love each other.
Jesus says this to the disciples after washing their feet. They had no idea what was about to happen to Jesus and what this love really meant.
This becomes clear, when Peter declares on this same night-
"I'm ready to die for you."
38 Jesus answered, "Die for me? I tell you the truth, Peter—before the rooster crows tomorrow morning, you will deny three times that you even know me.
Sometimes, we respond that way, too. We are feeling good with Jesus and we want to follow Him everywhere and anywhere, until everywhere and anywhere gets really hard. Let's be honest- loving people is hard!
If we are to love one another, we must first grasp tightly to the love Jesus has for us. We must examine how it was, that He loved us.
First, He knew who He was. His identity, His hope, His confidence, and His purpose were rooted in the Father.
Paul tells us ..
Philippians 2:6-7

New International Version (NIV)
6 Who, being in very nature God,
did not consider equality with God something to be used to his own advantage;
7 rather, he made himself nothing
by taking the very nature of a servant,

Jesus didn't come to do acts of service, He came as a servant. That is something we need to look into our own hearts and ask ourselves- do we choose to do acts of service, or do we see ourselves as servants?
As followers of Christ, we have a responsibility to live a life worthy of our high calling- that calling is to be servants.
Because of that high calling, we should be brought into humility before a Holy God.
The greatest delight of the meek and humble, is to enjoy the free unmerited mercy and grace of God. Our longings are satisfied in God. Our identity and our confidence are in God, and when we understand that, we are free to be a servant to all. When we are available to be His servant, we are united in our care for one another.
In our humility before a great God, we recognize our own imperfections, not just everyone else's imperfections.
When our imperfections are brought to light against the mercy and grace of Jesus, we see what He accomplished on the cross, and it's our responsibility to maintain that unity by the Spirit living in us.
We must break the chains that tie us to this world and keep us from living for the world yet to come. Only when we break those chains, will we begin to see Jesus and all that He has done for us in love. He has been patient and long-suffering with us, and to honor Him and please Him, we should want to behave similarly with those around us.
In the spirit, instead of being puffed up and self-righteous, we will be lowly and humble- we will be living as servants, not just choosing to do acts of service.
Instead of impatient and resentful, with the spirit we will be longsuffering and forgiving. That will open the door for peace and unity and love to flourish.
Ephesians 4:16

New Living Translation (NLT)
16 He makes the whole body fit together perfectly. As each part does its own special work, it helps the other parts grow, so that the whole body is healthy and growing and full of love.
To love one another, we have to first recognize and respond to the love of God, as Jesus said, "Love as I have loved you." We can't possibly love one another until we fully embrace His love first. Only then can we truly love in ways that matter!