Latest Posts
Subscribe to this blog's feed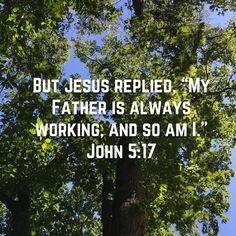 But Jesus replied, "My Father is always working, and so am I." –John 5:17 (NLT)
Starting back in the 70s, there was a popular radio show hosted by a man called Paul Harvey. He presented stories that would draw listeners in but he would hold back a key element of the story till the very end. Then he would conclude with a now famous line, "And now you know the rest of the story."
In addition to his iconic voice and gifted storytelling, our human curiosity and desire to be 'in the know' made for a very popular program. Humans have always had a curiosity and a desire to know things. It has given us great inventions and technological advances throughout history but it has also brought down nations and kingdoms in the name of espionage and brought down individuals as we sought after the gossip of our neighbors and friends. Our desire to know has driven a news industry that provides 24/7 coverage and when they run out of news to share, they will sensationalize smaller news items into what we now call, 'fake news.'
Our desire to know can be a double-edged sword in our spiritual life, too. God, why aren't you fixing this? God, where are you? Why aren't you directing me? God, why are you allowing this? Our desire to know and understand can be a hindrance in our spiritual life. We look to scripture for answers but when we read the stories of others' problems and trials, we approach them already 'knowing the rest of the story' and we try to ascribe that approach to our own lives. 'God, why won't you tell us the rest of our story?'
Knee deep in our trials and sufferings, we ask why? how? and what now? as echoes of "God will never leave you nor forsake you" reverberates in our soul. If God will never leave me, then why don't I see Him? Why don't I get answers or relief from my pain? In our search for information and answers, we look to the Word for the same neat and tidy story endings that our Bible characters experienced, like a modern-day sitcom where all problems are wrapped up in 30 minutes or less.
We forget that it was 13 years from the time that Joseph was sold into slavery by his brothers until he became overseer to the Pharaoh in Egypt. It took Noah over 60 years of ark building before the first raindrop fell. And poor Abraham, never saw the fulfillment of God's promise to him before he passed from this world. We miss the big picture of the Biblical stories when we focus on the beginning and end and disregard the journey in the middle. In fact, the endings lose their wow factor when we undervalue the journey before them.
God is always working and working for our good towards His purpose for us even when we can't see it. Joseph goes through extensive trials, from his brothers selling him into slavery and even to prison for things he didn't do and God appears silent and unseen to him the whole time. Until in one moment, God's plan and purpose is revealed. And it is in that moment that God's glory bursts on the scene, displayed for all to see.
In my own life, I have been praying for over a year for a resolution and God's will in several areas of my life and ministry and yet, here I wait. In two separate incidents over the past two weeks, He has reminded me that He is indeed working behind the scenes in preparation for His glory to be revealed.
As I prayer walked around the church building, I could hear God telling me to look closer at the path around me and there poking out of the dried and withered grass was a lone purple flower in all its beauty. A few steps more and this time yellow flowers rising up through the dead grass. A few days later, I was doing some much needed yard work in the backyard. Much to my surprise, there was an overgrown tomato plant taking over one area of the yard and covering up a passionflower vine. In fact there were over 20 tomato plants that had sprouted up across the backyard. How had they gone unnoticed before? It was as if God was revealing pieces of His work and His glory to remind me of His sovereignty and His timing. In the hard times, when we can't see God working, we have to trust and have faith that He is working because His Word says He is.
Our heavenly Father chose us before the foundation of the world to do the good things he has planned for us. In Christ, we have destiny and God will never leave us. He will always get us to our destination in Jesus, no matter how we feel and no matter what God leaves unseen till His revelation. Be encouraged brothers and sisters, we serve a God who never tires of doing a new thing in us, through us and for us even when we aren't able to see it!
Where are you seeing God's revelation of Himself? What issues are you facing that you need to turn over to Him for restoration in His timing?
Isaiah 43:19 (NLT)
19 For I am about to do something new.
See, I have already begun! Do you not see it?
I will make a pathway through the wilderness.
I will create rivers in the dry wasteland.